First appearance :
The Legend of Zelda (1986 - NES)
Link is a strong character who has a large arsenal at his disposal to prevent his opponent from approaching and imposing his pace and presence on the stage. Link is also a character who has good powerful melee attacks, which makes him a very versatile character.
Characteristics
Strengths
Great range

Very good zoning game

Powerful and heavy

Great aerial game
Weaknesses
Slow on the ground

Slow in the air

Combo food

Grab without range
Matchups
Favourable
Slow and heavy
Lacks range
Unfavourable
Hard to push back
Projectiles reflector
Stages
Favourable
Needs some space

To survive longer
Unfavourable
Some platforms can be annoying

Too small and too inclined
Features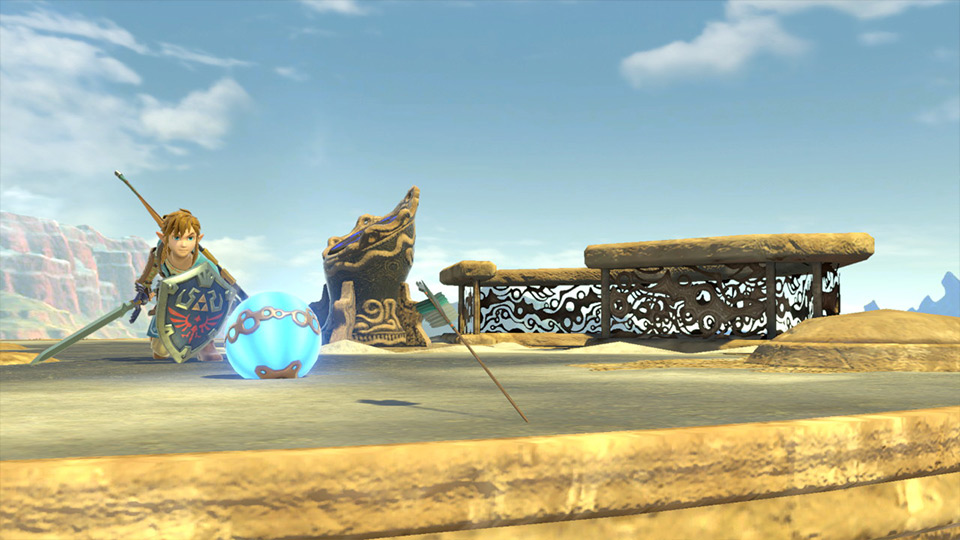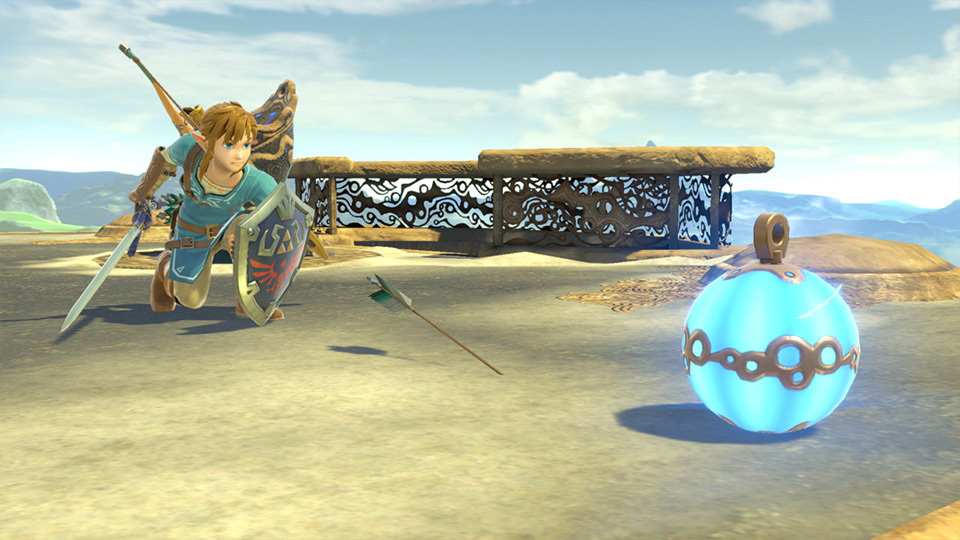 Link is a character who has a good number of projectiles which each have their own particularities. His Neutral B allows him to shoot an arrow and if this arrow crashes on the ground, you should know that Link can grab it to throw it or to arm two arrows on his next Neutral B, dealing more damages. His down b allows him to take out a bomb that link can detonate whenever he wants unless the bomb receives too much damage, fire damage or isn't detonated after 30 seconds. Note that Link also has a shield that blocks all ranged attacks if Link walks or does not move.
Best moves
NEUTRAL AIR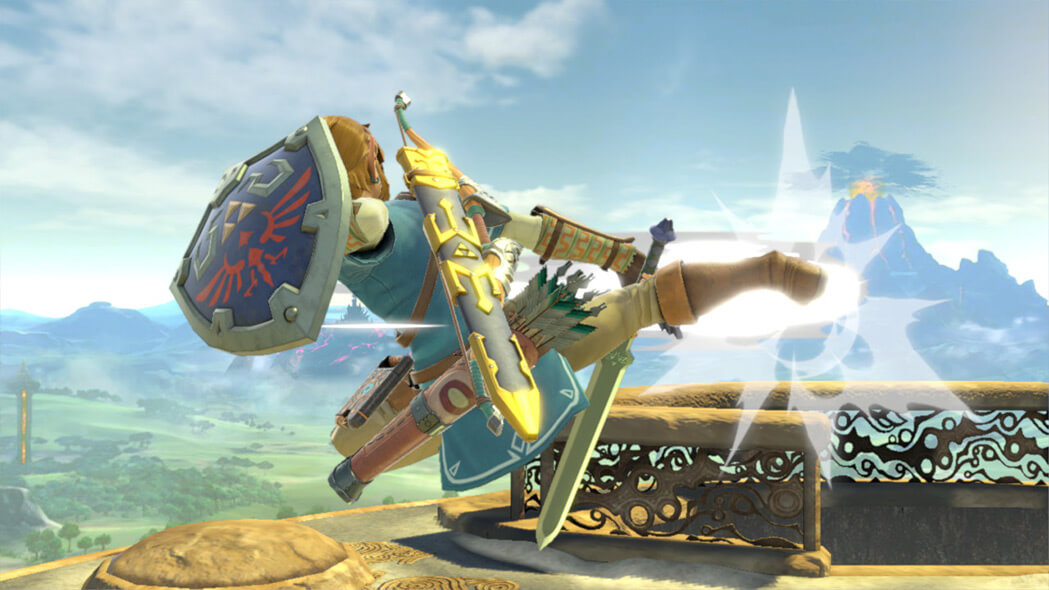 Link's swiss knife army move. This attack can be auto-cancelled meaning possibly no landing lag. The hit lasts a long time and has priority over quite a few hits. It is therefore a useful attack in a situation of disadvantage but also to put pressure on the opponent, knowing that this option can also kill.
UP B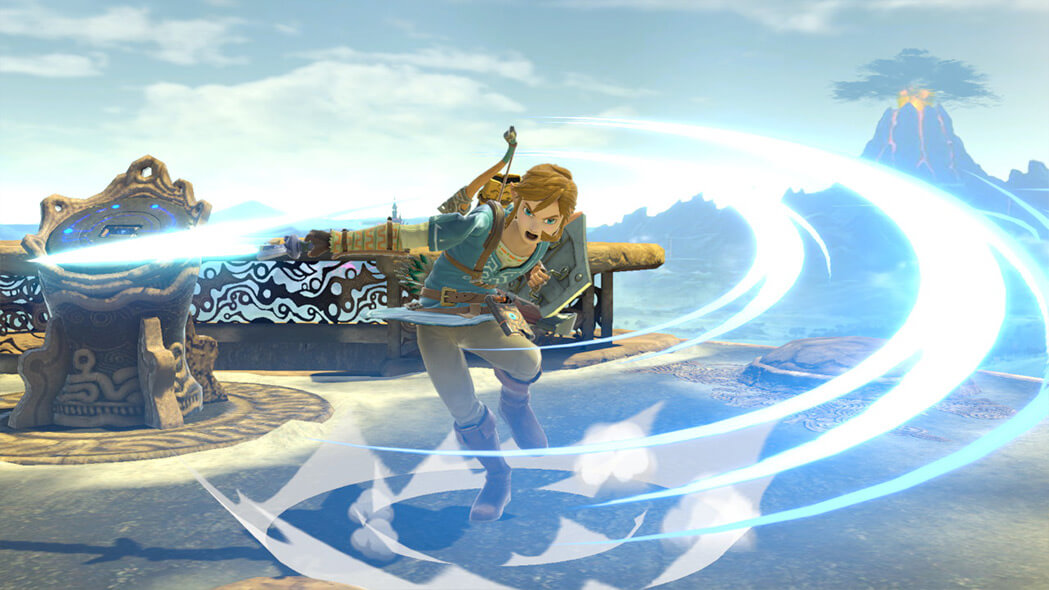 This move has a lot of range on the ground and in the air. It can be useful as an out of shield option, in tech chase situations, to end a combo and as an edgeguard option to suck up and kill enemies. However, be careful because the attack has a huge ending lag.
DOWN B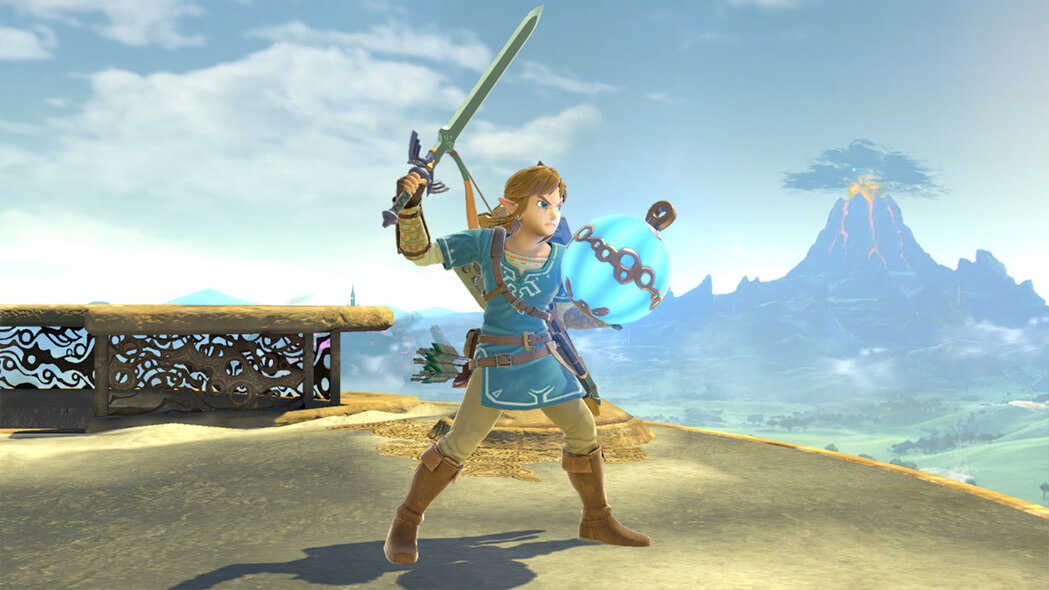 This attack offers a lot of possibilities and variety in Link's gameplay. It allows Link to put pressure, to kill, or to start combos. The Down B is very useful in an edgeguard situation, especially against fire attacks and it can also be used in ledgetrap situations to cover the opponent's options. Notice that it can also be used to return on the stage.
FORWARD AIR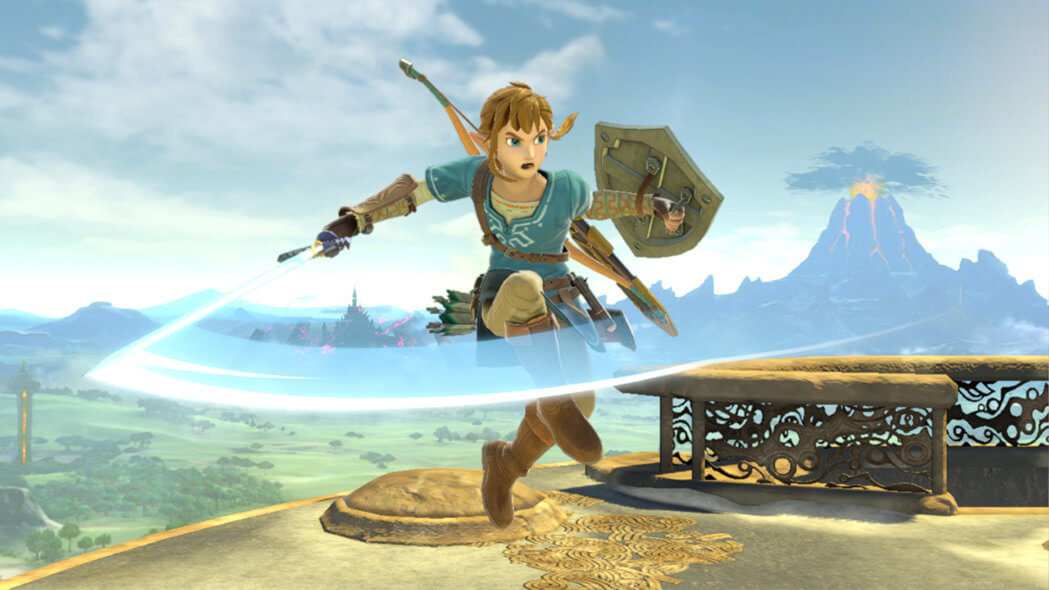 A useful moveto keep your opponent far and for combos. Besides, the ability to hit once or twice your opponent while falling more or less quickly can surprise your opponent and can lead to confirms.
UP TILT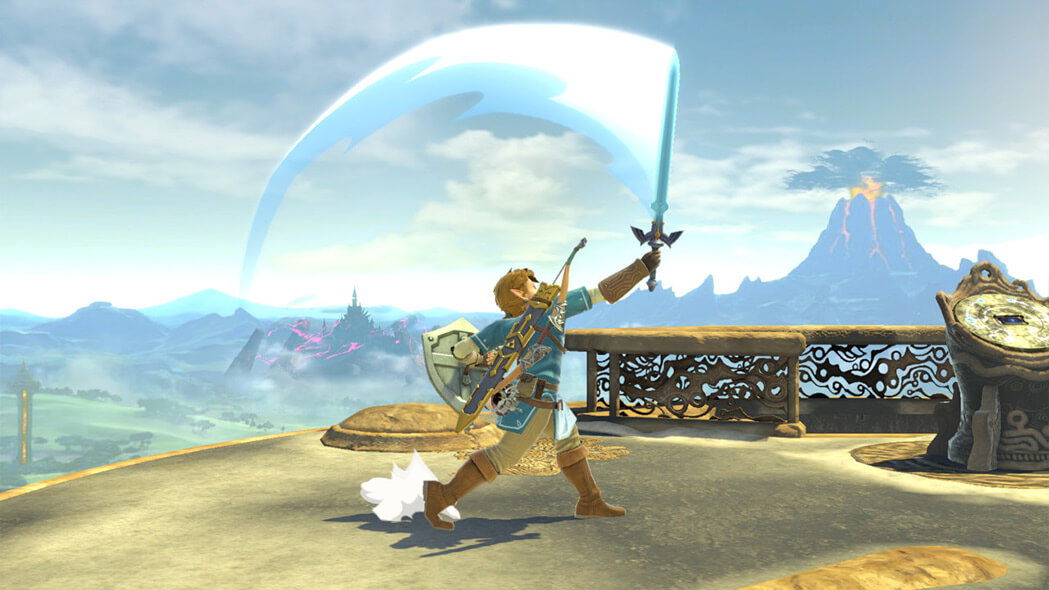 This tilt covers a large area around Link making it a good attack to easily cover aerial approaches as the move is quite quick. However, be careful because the attack does not affect small characters if they are facing you.
SIDE B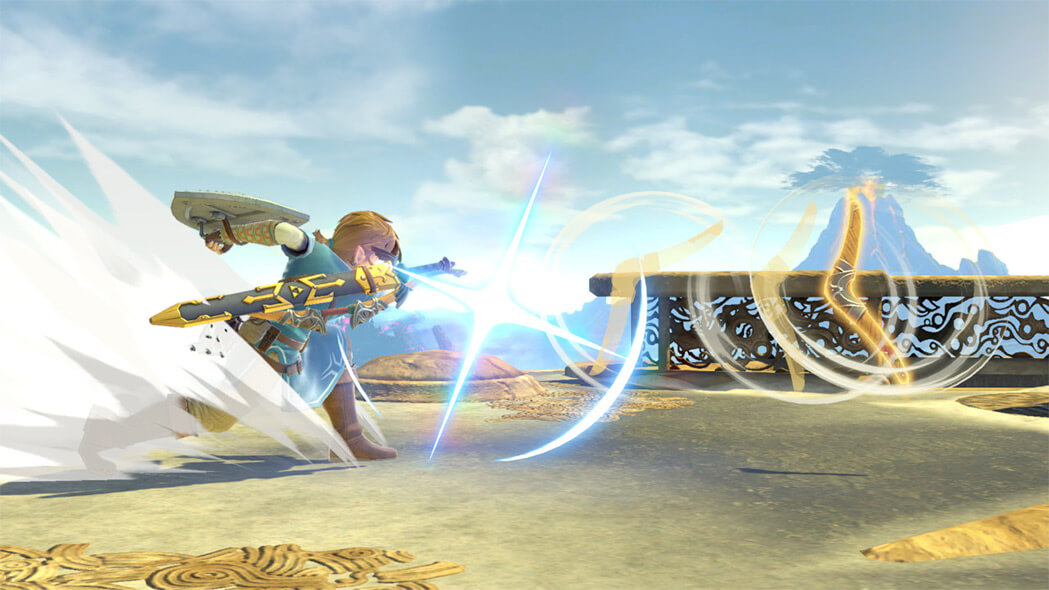 Fast and fairly safe projectile on shield at a reasonable distance. The speed and angle of the boomerang can be changed to vary its approaches. An excellent tool to gain ground, to trap the opponent or to get out of a combo, and coupled with the bomb, the attack becomes amazing.
Contextual Options
Quick Moves
Safe on Shield
OOS Options
Back Air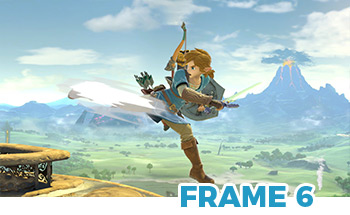 Neutral Air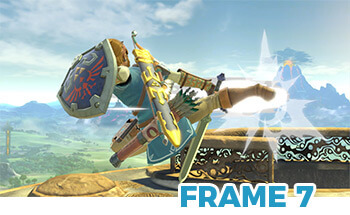 Up B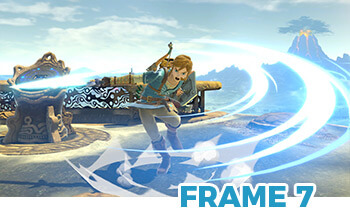 Neutral Air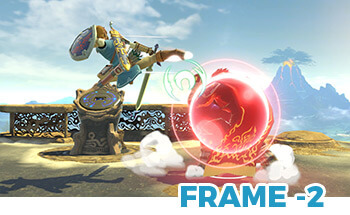 Back Air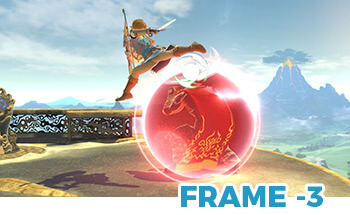 Forward Air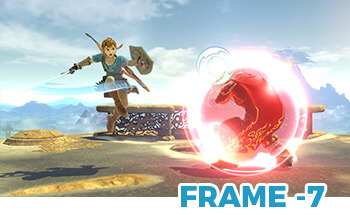 Up B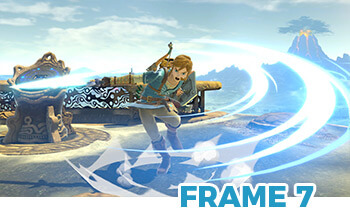 Back Air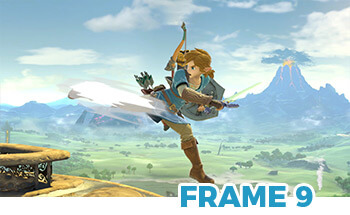 Neutral Air, Up Smash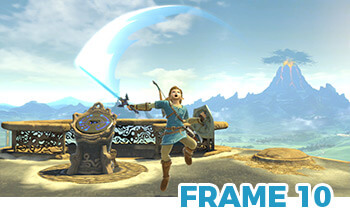 Last tips
Dangerous to go alone
Link has a very good game of projectiles. However, you should not overdo it and you should know the limits of what you plan to send to your opponent. Indeed, be particularly careful not to launch your projectiles if you are too close to your enemy because you could be severely punished. There is an area to be aware where you are not safe, so you have to watch out for characters who are hard to push back !
Iron boots
Aside from projectiles, Link can also count on very good safe attacks on shield like Back Air or Neutral Air. These moves are very interesting and you can count on them unlike other attacks like the Up Smash. Afterwards, you are still not safe from a parry or disjointed attacks which can therefore beat the Neutral Air, so remain vigilant and do not overuse it.
Create the right timeline
Link is a character who has a particular neutral game with all of his ranged and melee options, which is why you have to understand how the character works first and you have to understand how to handle the neutral game when you play as Link. Focus on fundamentals more than combos and advanced techniques and don't forget that Link is an ideal punching ball in disadvantage. So avoid wasting your jumps unnecessarily, otherwise you won't be able to do anything !
In a nutshell
Link is a versatile character who has a huge range of possibilities, which means that you can always renew yourself with the character, unlike other characters that are too linear. The projectile game and the bomb in particular give the character a lot of interest. This character doesn't sum up as one fighter who throws everything he has, thanks to his interesting melee attacks. Beyond that, the Zelda license gives a special aura to this character which immediately becomes much more pleasant to control !
Going furhter
For more informations and to progress faster